Margherita Pesto Pizza
Use equipment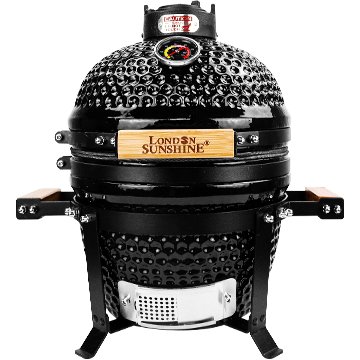 Instructions
Step One
Start by making the basil pesto. Combine the basil, olive oil, garlic salt, and black pepper in a blender. Add Parmesan Chips and blend to liking. Add additional olive oil if needed. Will last in a glass jar in fridge for two weeks.

INGREDIENTS

● 1 cup Fresh Basil Leaves
● 1/4 cup Olive Oil
● 1 teaspoon Garlic Salt
● 1 teaspoon Ground Black Pepper
● 1 package Parmesan Crisps


Step Two
Fire up your Kamado Joe for 550-600°F using Big Block lump charcoal. You have a few options setting things up. You can place your heat deflectors on the middle tear using the Accessory Rack. Then, you place your pizza stone on spacers on middle of the heat deflectors. I like creating a higher gap to help promote even cooking on bottom crust. Another option is to do the above setup on grill grates on middle tier.


Step Three
In order to achieve 550-600°F, I would open both middle and bottom vents until you reach desired temps. Then adjust your settings to stabilize for desired temp.


Step Four
As you prepare the pizza, you can place finished pizza dough on parchment paper or throw down some Semolina flour (which is more course to put on pizza stone to promote even cooking and smoothly move pizza off pizza peel and stone).


Step Five
NOTE: Urban Slicer pizza dough already has wheat flour and yeast and just requires adding water. Each package makes two 14" Neapolitan Style crusts.


Step Six
After dough has risen between 2 - 4 hours, roll dough into a round shape, spread pesto all around, adding mozzarella cheese, and sliced tomatos on middle and sprinkle Urban Slicer seasoning.


Step Seven
At 550-600°F, the pizza should cook 7-9 minutes. Once you see golden brown crust and melted cheese, remove.


Step Eight
middle off with dollops of ricotta cheese, and remaining basil leaves and drizzle balsamic glaze. Slice, serve and enjoy!